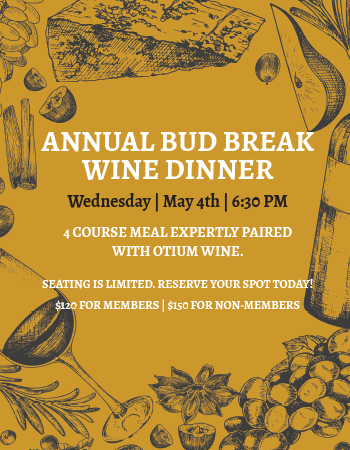 Bud Break Dinner
Reserve your spot today!
Wednesday | May 4th | 6:30 PM
*PLEASE CHOOSE PICK-UP AT CHECK OUT AS YOUR NAME AND GUEST COUNT WILL BE ADDED TO OUR GUEST LIST AT THE TIME OF PURCHASE. PHYSICAL TICKETS ARE NOT PROVIDED FOR THIS EVENT. ALL GUESTS MUST BE 21+
$120 for Members | $150 for Non-members
Spring is here and our annual Bud Break Dinner is now open for reservations! Join us Wednesday, May 4th at 6:30 PM for an incredible 4 course meal by Chef Beau Eyster, expertly paired with our Otium wines by our wine maker Max Bauer.
Seating is limited, so reserve your spot today! We look forward to sharing this wonderful annual tradition with our club members and patrons.